*Each employee who completes a course that costs $499 or more will have free online access, for a whole year, to one of our self-paced Virtual Edge courses. Enroll now!
Virtual Edge: Free Access to Business Skills Courses for a Full Year
Evolve Beyond One-Dimensional
Virtual Edge is a library of 25 online business courses designed to transform single-focused specialists into versatile all-stars. This valuable offering of courses will equip organizations with skills that lead to strong collaboration and agile problem-solving. Want to know more? Scroll through the list of valuable course topics on the left, then select a qualifying course from our catalog.
How to Evolve with Virtual Edge
Browse through our catalog of more than 3000 course titles. Let us help you enroll and receive a free subscription to Virtual Edge after completing a course that costs $499 or more. Virtual Edge makes enhancing your team's skills easy and convenient. Knowledge areas span everything from accounting and business writing to communication and strategic thinking -- all the skills your organization needs to remain agile. Choose from more than two dozen online courses that can be completed at your convenience anywhere, and be repeated anytime within a one-year period.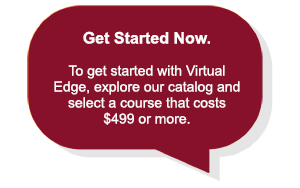 For questions or enrollment help, call (937) 854-5940, ext. 7
Email:
debi@dunsonandassociates.com
Eligibility for Free, Virtual Edge access for one year:
This program shall apply only to eligible courses purchased and delivered in the United States and Canada.
In order to participate in the program, student must attend all days of an eligible course offered by Dunson & Associates.
All courses offered by Dunson & Associates with a price of $499 or more for an individual attendee are eligible for this program unless otherwise excluded. Microsoft application courses and select courses delivered in French are excluded from this program.
Student will receive access to the program upon Dunson & Associates verification of his or her completing of the eligible course. Student will have access to the course for a period of one year.
Access will not be extended beyond one year.
Students may access as much of the self-directed content as they like, and repeat the course as many times as they like during the one-year period in which they have access.