Career Column: 7 Interviewing Tips To Help You Get That Dream Job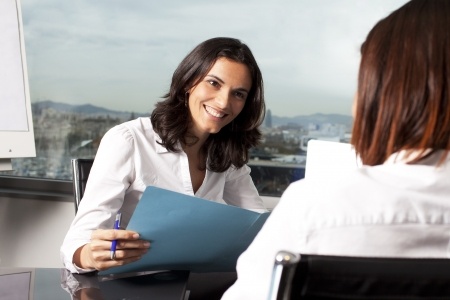 Job interviewing is never easy. Whether it's your first interview or your hundredth interview, the nervousness and anxiety is the same for many people. Just the thought of meeting and interacting with new people tends to give them goose bumps. This is very common, and if you feel the same, try these quick interviewing tips, which can make you feel organized, prepared and more confident. Proper preparation can alleviate the stress of interviewing and make you feel more at ease. When you are at ease, your confidence and comfort will shine through, making a good impression and helping you grab that dream job.
Job Interview Tips
1. Practice Makes Perfect
Before the big day, practice some typical interview questions that employers ask. You can search the internet as well and find plenty of topics interviewers frequently cover. Think about some actual examples that you can use to describe yourself, your experience and skills. Providing evidence of your achievements and successes makes you a stronger candidate. If you want to really stand out, have a list of questions that you want to ask the interviewer ready.
2. Research As Much As You Can!
Prospective employers won't be impressed if you walk into the office knowing nothing about the company or its culture. Dig deep to learn about the company's history, its current work, and what the culture is like. Know your interviewer's name (and their role with the company) and make sure you use their name during the interview. If no one told you who will be conducting the interview when you schedule it, call the office and ask the day before. Make it clear in the interview how you will fit into the company culture or how you can solve a problem for them.
3. Dress Appropriately
First impressions matter. That means prospective employers will note how you dress. Make sure you plan your attire ahead of time. Make sure it is neat, clean, and pressed. The trick is to wear what is appropriate according to the company you are interviewing with. Some technology business and startups likely have a more casual dress environment than banks and corporate offices. The higher the position, the more formal — and conservative! — you should dress. Leave the flashy jewelry at home. Pay attention to the colors you wear, too. Red is flashy, but also aggressive. Blue is safer and suggests trustworthiness. Black and other neutrals are good choices as well.
Don't forget to bring a well-kept folder with your resume, any relevant portfolio work, some spare paper and a working pen.
4. Be On Time (or Early)
This is very important. No matter what, do not be late to your interview. Wake up earlier than you normally plan. Give yourself some leeway in travel time to account for traffic and parking (and just finding where you are supposed to go). Being on time, or early, also boosts your confidence level. It also shows your prospective employers that you are organized and dependable.
5. Stay Calm
During the job interview, it is very important to have a relaxed and calm mind. Stay as focused as you can. Try to maintain eye contact with the person (or people) interviewing you. Listen carefully to the conversation and questions and frame out answers in your mind before spilling them out.
6. Talk About Your Skills Clearly
When answering the questions about your achievements and skills, make sure you give your answers as clearly as possible. Don't couch your language or give evasive answers. You don't want to misrepresent yourself. When discussing your career accomplishments, match them with what the company is expecting to what the company is looking for. Reference the job posting if possible. Be able to provide specific examples.
7. Update Your Resume
Long before you get to the interview, you have to worry about the resume. Keep your resume up to date with your successes and achievements. When applying for a new job, you may need to alter some of the information to make it suitable for the current opening. Tailor the language to reflect the job posting and add or remove skills as appropriate. Make sure you also include the link to your LinkedIn profile to help your potential employers understand more about your background history. It will also encourage them to review your past works closely and check out recommendations from your previous employers and coworkers.
These were a few interviewing tips that you should always keep in mind. Interviews are all about selling your skills and presenting the right image to the people who want to hire you. Remember that more confident you sound in front of your potential employers, the better chances you have to land the job of your dreams.