Career Column: Resume Mistakes to Avoid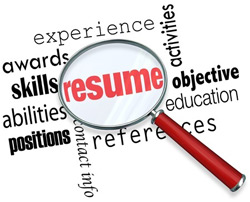 Although there are a variety of important events that will transpire in a person's life, attaining a job is probably one of the most significant. Individuals who are in search of employment should note that their ability to attain a position is often contingent upon the quality of the resumes they submit. Unfortunately, there are a variety of mistakes that individuals can make when putting together this document. However, by learning about these mistakes, individuals who want to put their best face forward can do so. Here are four mistakes to avoid:
1. Grammatical Errors and Typos.
When you put together your summary of job qualifications, you need to ensure that the final document is free of grammatical errors and typos. This is important for several reasons, including the fact that the presence of errors can make it more difficult for your prospective employer to read the document. Additionally, the presence of grammatical errors and typos in your document can be interpreted as an indication that you are too slothful to do the extra work necessary to create an excellent summary of your qualifications.
2. Excessive Length.
Oftentimes, people feel the need to impress prospective employers with lengthy descriptions of their education, credentials, qualifications, and awards. Yet doing this entails the production of unnecessarily lengthy documents that employers don't really need. Shorter documents are more desirable for several reasons, including that they preclude the employer from having to spend extended periods of time reading your information. Thus instead of creating lengthy documents, streamline your document so that it only contains information that is relevant to the position you're applying for.
3. Vague Recommendation Letters.
Oftentimes, employers who request resumes from job applicants are also interested in attaining recommendation letters to better gauge their qualifications. And while recommendation letters can greatly enhance your opportunities of getting a job, this will not be the case if the letter includes a vague analysis of your personality, skills, and aptitude for the position you're applying to. With this idea in mind, it's a good idea to ask individuals who write recommendation letters for you to include specific information about your qualifications.
4. Highlighting Duties Instead of Accomplishments.
Oftentimes, employers come across documents that include a detailed list of the duties a prospective employee has completed without providing information regarding what they've accomplished. Understanding the difference between duties and accomplishments is important because while the former demonstrates the ability to complete a task, the latter functions as evidence of the individual's capacity for being effective and productive in promoting the values of a company or accomplishing its mission statement. An example of a duty an individual might list would be "Worked with children in a day-care setting." On the other hand, an accomplishment would be worded thus: "Developed three daily activities for preschool-age children and prepared them for a 10-minute holiday program performance." In addition to indicating the individual's ability to work in a productive fashion, the aforementioned accomplishment provides the employer with the types of details necessary to form an understanding of the applicant's personality and aptitude for the position.
Conclusion
Individuals who are interested in attaining a new position should note that the construction of clear, concise resumes could help them accomplish this objective. By reading the information listed above, you can make an informed decision regarding what type of information to include and omit when you prepare your summary of qualifications.